About Ingrid King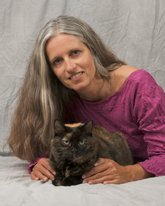 Ingrid King is a Reiki Master Practitioner, trained in traditional Usui Shiki Ryoho Reiki. She integrates Reiki with her natural intuitive abilities and tailors each session to develop the best experience for each individual client, be it human or animal.
Ingrid has extensive experience in many facets of the veterinary profession. During the twelve years she worked in veterinary clinics in various capacities, she gained a thorough understanding of pets' and owners' needs in what can often be a stressful environment for both. Her passion for educating pet owners and her love for animals, combined with her compassion and outstanding client communication skills, led her to realize her dream to serve pets in a more hands on and individual capacity by forming Healing Hands.
She views her role as that of a facilitator, assisting you and your pet in achieving and maintaining a natural state of balance and well-being and/or to adapt to physical limitations, changes, or injuries. The specific results of a session will be different for each animal or person.
Ingrid is the award winning author of Buckley's Story: Lessons From a Feline Master Teacher, Purrs of Wisdom: Conscious Living, Feline Style, Adventures in Veterinary Medicine: What Working in Veterinary Hospitals Taught Me About Life, Love and Myself, and the publisher and founder of The Conscious Cat, a multiple award winning website dedicated to conscious living, health and happiness for cats and their humans.
Frequently Asked Questions about Pet Reiki
What can I expect from a session for my pet?
Sessions are typically 15-30 minutes. Each individual pet is different. Some pets take to these therapies readily and will enjoy a full session even at their first appointment. Others may take some time to get used to the idea and "feel" of Reiki and may initially only want a shorter session.
Reiki can be given hands on, as well as at a distance. Most pets, especially cats, take to Reiki readily. Some pets relax so deeply during a treatment that they may fall asleep.
How many sessions will my pet need?
This depends entirely on your pet's state of health and individual needs. Some pets show visible improvement after only two or three sessions, others may need ongoing weekly or bi-weekly session. Improvement tends to be gradual, but in some cases, it can be dramatic after only a few sessions. As with all other services Healing Hands provides, frequency of sessions will be tailored to your pet's individual needs.
Can I learn how to do Reiki on my pet?
Reiki is transferred to the student by a Reiki Master Teacher through an attunement process. For information on animal Reiki training in Northern Virginia, please visit Animal Paradise Communication and Healing. For information on animal Reiki classes elsewhere, including online classes, please visit Animal Reiki Source.
How much does a session cost?
The fee for a treatment for a pet is $65.
All treatments are by appointment only. Please contact Healing Hands to schedule an appointment.