Welcome to Healing Hands
Health and Happiness for You and Your Pet
More and more people are understanding that well-being encompasses body, mind and spirit, and as a result, are turning to complementary therapies such as Reiki to improve and enhance their quality of life. And, as we are experiencing the benefits of Reiki and other alternative therapies for ourselves, we also look for alternative ways of caring for our pets. They, too, will benefit from these modalities.
Illness and even the normal aging process can manifest in signs of pain and reduced energy in pets as well as in humans. Your personal stress can be reflected in your pets and create illness for them. Conventional medical treatments often cause side effects that can be alleviated by alternative therapies.
Reiki is an energy therapy that can bring relaxation, comfort, more energy, healing and an increased sense of well-being to pets and their people.
Healing Hands provides Reiki for pets and people along with providing you the information you need to feel comfortable and confident about these therapies.
About Ingrid King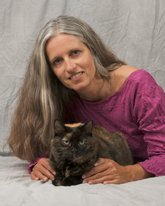 Ingrid King is a Reiki Master Practitioner, trained in traditional Usui Shiki Ryoho Reiki. She integrates Reiki with her natural intuitive abilities and tailors each session to develop the best experience for each individual client, be it human or animal.
Ingrid has extensive experience in many facets of the veterinary profession. During the twelve years she worked in veterinary clinics in various capacities, she gained a thorough understanding of pets' and owners' needs in what can often be a stressful environment for both. Her passion for educating pet owners and her love for animals, combined with her compassion and outstanding client communication skills, led her to realize her dream to serve pets in a more hands on and individual capacity by forming Healing Hands.
She views her role as that of a facilitator, assisting you and your pet in achieving and maintaining a natural state of balance and well-being and/or to adapt to physical limitations, changes, or injuries. The specific results of a session will be different for each animal or person.
Reiki, massage and other alternative therapies are not a substitute for veterinary care.
This website is best viewed with a cat or dog in your lap.